The OSAC or your workshop must have already told you about it but, in concrete terms, what does the continuing airworthiness of an aircraft consist of and what does it entail? This article will explain it to you …
What is Airworthiness / CAMO Management ?
Simply, the "quality management" or "airworthiness management" consists of checking that an aircraft complies with the maintenance intervals and operations defined in its maintenance program.
By respecting it, the aircraft is considered "fit to fly" from a regulatory point of view.
In this maintenance program, there are many elements such as:
Airframe, engine and propeller maintenance manuals.
They contain the list of periodic visits and the parts to be replaced, checked or cleaned at a defined frequency.
Service Bulletins, Service Letters and Service Informations
These are documents issued by manufacturers following a noted anomaly or a modification to their products. These documents may apply to a limited number of aircraft according to various criteria (serial number, part fitted on the aircraft or not, etc.). They propose either to correct the anomaly or to make a modification on the aircraft concerned.
These documents are issued with different possibilities for the owner: either mandatory, or recommended, or optional.
Airworthines Directives released by the national authorities:
These follow a document such as a Service Bulletin issued by the manufacturer. It is mandatory to apply ADs within their own time limit.
Regulatory operation which depends on the country
We find, for example, the ATC chain control or the renewal of ARC.
The number of items to track ranges from 80 for a light aircraft to several thousand for a more complex aircraft. The list of these items is called "Due List". This is the status of your plane at a given time.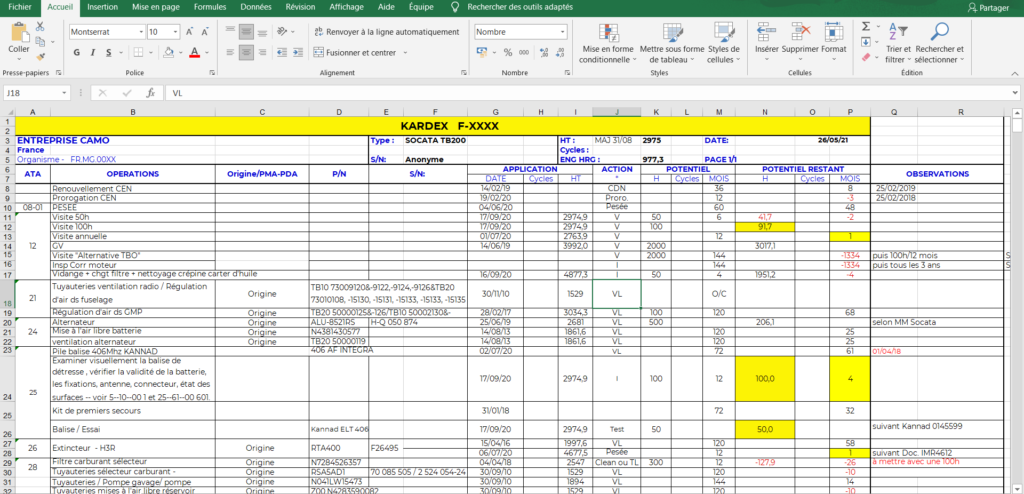 So, tracking is about keeping this Due list up to date as the plane flies and time goes by.
If CAMO Management was a black box, there would be 2 entries and 3 exits. As a starter, we would find:
The Flight data (hours, cycles, discrepancies) provided by the pilots or the Flight OPS department
The works performed during maintenance by the Part 145 or Part CAO
And in output, we would have:
The hours, days, and cycles left before the next inspection
The work order at the beginning of an inspection
One of the roles of the CAMO manager is to design the maintenance program for the aircraft.
To ensure this follow-up, it is necessary to have a tool to follow the life of aircraft over time. And for that, you can use Excel (with the risks that this entails) or a dedicated software.
Now that you know how Continuing Airworthiness works, you are probably wondering what options do you have?