Manage your aircrafts or your inspections everywhere in real-time 
Skyzen increases safety by sending you email notifications when your aircraft have to do maintenance and selecting all the operations which have to be performed at the next maintenance.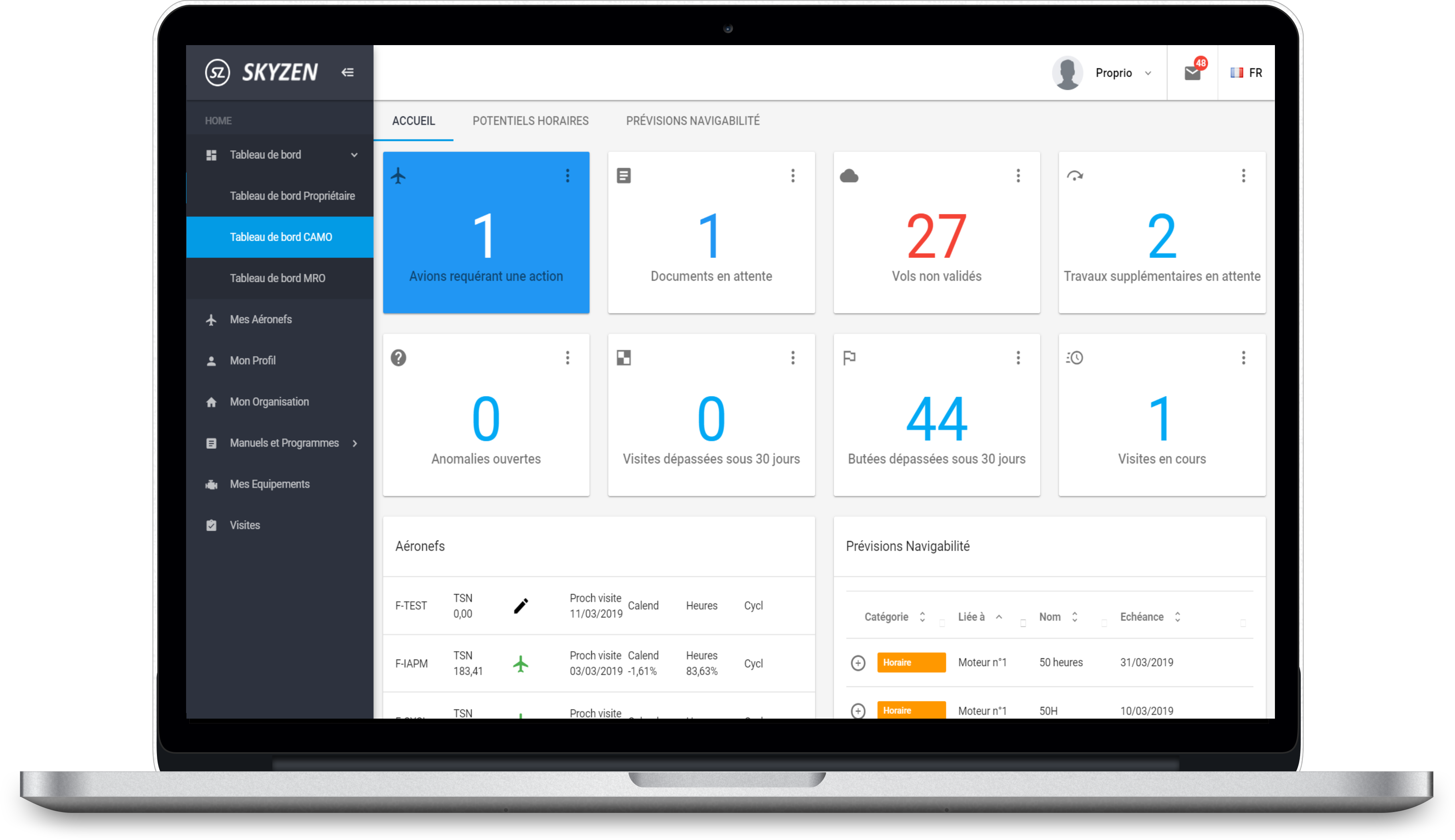 Easy Airworthiness, Online Maintenance
Operators / Owners
You want to save money and be the one who choose the operations to perform on your aircraft ?
With Skyzen, you are fully autonomous and regulatory compliant. You know in real time the hours left on your aircraft and you choose the operations to include in the next inspection.
You can also use Skyzen as a Digital Technical logbook. 
Airworthiness Management
You are spending too much time on looking for informations on the aircrafts you manage ? You don't have a global overview on the limits of your fleet ?
Save & Acces easily to all information about your aircrafts. Have a real time view of the limits left on your fleet 
Maintenance Management
You are spending a lot of time on searching technical documention and fulfilling the inspection's reports rather than working on the aircraft ?
Complete the inspection's report while you are working on the aircraft. You just have to complete the operations you have performed and the report will be ready to be send at the end of the inspection.
Airworthiness & Maintenance Management Online
Skyzen provides you a better vision on your fleet's airworthiness and helps you to trace and digitize your inspections.
They use Skyzen for their daily operations
Your Advantages
Save Time
Once an aircraft is in Skyzen, the limit management is automatically done. You just have to provide flight hours and launch inspections.
If you are a workshop, the data submitted by the mechanics will help you to finish the inspection's report much fastly. 
Collaboration
The exchanges of data are easier between actors (Owner, CAMO, MRO) to have a better efficiency and improve traceability.